Plant a Tree to Celebrate Earth Day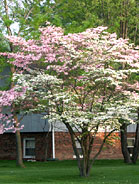 Lend a hand to the environment while adding a beautiful accent to your home's landscape
Tuesday was Earth Day, and what better way to celebrate than by planting a tree this season?
Along with the obvious benefits of added curb appeal, trees will also have a positive impact on the environment for years to come.
In fact, trees are one of the easiest and smartest ways to "go green". Take into consideration some of these facts and benefits:
Energy Consumption
Properly placed trees act like nature's ultimate insulation. According to the USDA Forest Service, strategically placed trees around a building can reduce air conditioning needs by 30% and can save 20-50% in energy used for heating. During the winter, evergreens planted on the north side of your home will intercept and slow cold winter winds to save on heating costs.
Air Quality
In addition to being wonderful landscape accents, trees also make the air we breathe cleaner by absorbing dangerous carbon dioxide. Poor air quality isn't a problem just in cities anymore - the combination of emissions from automobiles, urban sprawl and other pollutants has denegrated air quality across the globe. Over the course of a 50-year lifetime, a single tree generates $31,250 worth of oxygen and $62,000 worth of air pollution control.
Water Supply
The planting of trees also means improved water quality. Trees will filter rain water, resulting in less runoff and erosion. This allows more recharging of the ground water supply. Wooded areas will also help prevent the transport of sediment and chemicals into streams.
Get Started Today
Doing your part to help the planet doesn't have to be tedious or difficult. If your landscape has been missing a certain "something", make Earth Day your call to action. We have an expanding collection of wonderful trees that will look great in your yard for many seasons to come while also lending a hand to the wonderful world we live in. Let our experts help you choose the right one for you!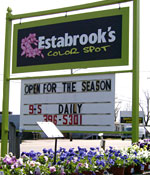 Gardening just got easier! Estabrook's Color Spot is NOW OPEN on Route 1 in Scarborough.
Estabrook's Color Spot brings together the best and brightest from our collection of plant material to make it quick and easy to find exciting plants for your home.
To learn more, visit www.estabrooksonline.com/colorspot
Lime and Your Lawn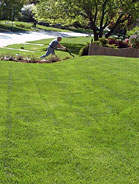 Looking for a greener, healthier lawn? Lime could be the answer
If you're looking for a greener, healthier lawn, an application of lime could be the answer. By applying lime to your lawn, you'll improve your soil, make more nutrients available to your grass and increase the effectiveness of a fertilizer treatment in the fall.
Why Should I Apply Lime?
Your soil's pH level is very important to the health of your lawn. pH is a measurement of the acidic or alkaline level of the soil and a level between 6.0 and 7.0 is ideal for turf grass.
Lawns will naturally leach base nutrients such as calcium, magnesium and potassium from the soil over time. The loss of these nutrients will cause the soil's pH level to drop as it becomes more acidic. In seasons of heavy rainfall, this problem becomes even more severe.
Another reason your lawn's pH level may be too low is due to nitrogen based fertilizers. While lawn fertilizers provide many important nutrients to your lawn, they often contain high levels of nitrogen which will make your soil more acidic.
When your soil's pH drops below 6.0 (making it acidic), fewer nutrients become available to your lawn. This can adversely affect your lawn's color, vigor and ability to recover from heat, drought and heavy traffic. By adding an application of lime, you can raise the pH level of your soil and increase the availability of these nutrients.
Does My Lawn Need Lime?
The only way to determine if your lawn would benefit from liming is through a soil test. Estabrook's offers several different at-home kits that will provide you with a general idea of your pH levels. For more accurate results, a state or commercial soil testing facility can be used. These detailed reports will break down exactly home much lime should be applied for optimal soil conditions.
How Much Lime Should I Apply?
While a detailed soil report will tell you exactly how lime to apply, a good rule of thumb is one bag for every 1,000 square feet.
How Often Should I Apply Lime?
Applications of lime should only be done when a soil test necessitates it. While a pH level under 6.0 can do damage to your lawn, a pH level over 7.0 (creating alkaline soil) can also cause damage. Nutrients such as nitrogen, phosphorus, and iron will become less available and your grass will become less vigorous.
A careful balance between treatments of fertilizer and lime will go a long way towards a fantastic lawn.