FREE Planting All Weekend at Container Gardening Days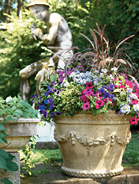 Add color anywhere with container plantings
Gardening in containers will add near-instant color and structure to any garden, whether by adding more growing area and depth to a small garden or by setting off a certain pathway or design feature in a large space.
This weekend we're celebrating container gardening with FREE planting services, drawings for special combination planters and special guest visitors.
Our friendly staff will be on hand to pot up your creations in one of our containers or a favorite from home, but if you're more of a do-it-your-selfer, we've compiled these general container planting guidelines:

Learn about using
Proven Winners
in containers with Andy Aiken of Pleasant View Gardens from
9am - 1pm
on Sunday.
Choosing a Container
Choose the right size and material for your container. Smaller pots and containers made out of terra cotta dry out more easily, so consider using these in shady garden areas. Choose glazed, wrought iron or large wooden containers for full sun areas, as they tend to retain more water.
Choosing Plants
Keep in mind the light and care requirements of each plant you choose in relation to the location and the size of your pot or container.
Putting It All Together
To begin planting, cover the drainage holes of your chosen container with potshards or a double thickness of newspaper to prevent soil loss. Next, add an appropriate amount of pre-moistened potting mix for the size of the container and number of plants being used.
Place your plants in the desired arrangement before filling and firming soil around them. Back fill the container with soil, firm in gently, add a time-release fertilizer and water until it runs out from bottom of the pot.
Aftercare
Depending on the plants chosen, and whether or not the addition of a time-release fertilizer was used in planting, fertilize your containers every two weeks with a well-balanced water-soluble fertilizer. Watering containers can vary widely depending on the weather, the type of plants chosen, the location of the pot, and how many different plants are in each pot, but it's fairly safe to say that containers and pots will require more water in dry hot weather and open windy areas than in wet weather and cool shaded areas.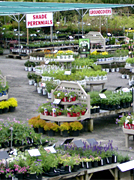 Perennial Mix & Match Sale
Thousands of new perennials have just arrived, including outstanding selections from White Flower Farm, American Beauties and more. Come see what's blooming and save!
$11.99 varieties
Buy 5+ $9.99 ea, Buy 10+ $7.99 ea
$14.99 varieties
Buy 5+ $12.99 ea, Buy 10+ $11.99 ea
Creating Combination Planters with Proven Winners
Do you want beautiful combination planters for your deck or patio, but can't decide what should go into the pot? Proven Winners makes it easy to create dazzling container plantings with a host of ready-to-use recipes.
Simply place your Proven Winners into a container at the spots designated on the diagram, follow appropriate care instructions (see above) and voila! A combination planter you'll marvel at all season.
Below are two of our favorites:
Sweet Serenity


A: Calibrachoa 'Superbells Plum'
Pride & Joy


B: Petunia 'Supertunia Cotton Candy'
You can find even more combination recipes on ProvenWinners.com!