Vegetable Gardening in Small Spaces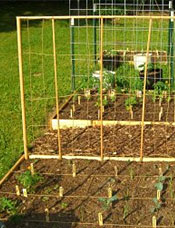 Growing delicious vegetables doesn't require acres of land. With a little planning and ingenuity, you can grow vegetables almost anywhere.

Think Vertically

When space is limited, consider gardening up! In addition to choosing varieties that remain compact, deliberately planting climbing varieties of some vegetables uses a smaller amount of surface space in your garden, allowing you to produce more vegetables in a limited area.

Try planting climbing cucumber and pole beans on a trellis. Cages, stakes, poles and netting all come in handy for maximizing space. Vertical plants will often dry out more quickly but also enjoy better ventilation. Remember also that vertical structures will cast a shadow so site these plants accordingly.

Mix It Up!

Another space saving trick is called interplanting or growing two or more compatible plants in the same area. This can be done by simply alternating rows or by mixing plants in the same row or square. Consider growth rates and growth pattern, as well as water, light and fertilizer needs. For example, it's good to match carrots and radishes together. The radishes mature quickly and are harvested before they would shade or crowd out the carrots.

Crop Rotation

Succession planting and relay planting are also strategies that aid production. In succession planting, later season crops are planted as earlier ones are harvested. For example, beans or corn can be put in as soon as the peas are finished. Relay planting works well for those veggies you like best and want to have as long a harvest as possible. Planting beans, for instance, at 2 week intervals ensures a steady supply of fresh beans for a good part of the growing season.

Keep in mind that when gardening this way, good watering, fertilization, and composting are all extremely important.


Save 20% Thru Monday

This weekend is your last chance to save big while growing your own fruit, veggies and herbs!

ALL vegetables, herbs, fruit trees, blueberries, raspberries, strawberries and grapes are now 20% OFF at Estabrook's in Yarmouth, Scarborough and Kennebunk until the end of the day on Monday, May 28th.
Growing Herbs in Containers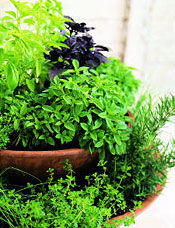 Whether you don't have the space to plant herbs in the garden or you just want to brighten up a deck, patio, or the front stoop in a fun (and useful) way, container gardening offers you the chance to always have fresh herbs on hand.

Although many herbs grow well in containers, growing in a pot is not like growing in the garden. Here are some tips to help get you started:

Choosing a Container

You will want the pot you choose to be attractive as well as functional. The two most common types of containers you'll encounter are clay and plastic, and each has its advantages and disadvantages.

Clay pots are beautiful, but they are more porous than plastic and will dry out more quickly, which means more watering. Plastic pots are inexpensive, durable and lightweight. They will also lose water much slower than their clay counterparts. If you want to have an upscale look without the added work of monitoring a clay pot's water supply, you can always slip a plastic pot inside a clay one for the best of both worlds!

Whichever container you choose, good drainage is the number one priority. Herbs do not like sitting in standing water, so holes in the bottom of your pot is a must. If you have the perfect pot and it doesn't have any holes, drill them yourself!

Location

For best results when gardening in containers, choose plants that suit your climate, give them the right light, and protect them from strong winds and intense heat or cold. Although plants need sun, remember that they are sensitive to the intensity of sunlight. Some like full sun all day, some morning sun, some do best in partial shade and others full shade.

Planting

Before removing your herb from its container, water the soil thoroughly. Moist soil will clings to the roots, helping to hold the rootball together. To remove a plant from a pot, invert the pot and tap it gently on the bottom. If it doesn't come out, run a knife around the pot's inside edge and try again. Check the root ball after it comes out. If the plant was pot bound, score the roots lightly with a sharp knife, and loosen the roots by teasing them with your fingers.

Prepare your container by laying a cushion of moist soil mix in the bottom so that the top of the rootball is about 1" below the pot's rim. Position the plant in the middle of the container and fill in more moist soil mix around the plant's sides, pressing it in firmly so as to plug air holes.

Do an initial watering from the top, or put the pot in water and let the soil seep up the moisture. Set the pot in a spot protected from the sun and wind for about a week. The plants should be repotted when you see roots coming out of the bottom drainage holes.



Like Us!

Follow Us!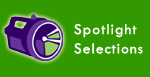 We have a massive selection of your favorite annuals ready to be planted in beds, containers and window boxes this weekend!




Geraniums




Dinnerplate Dahlias




Petunias




Osteospermum




Impatiens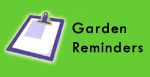 We're open every day (including Monday) in Yarmouth, Scarborough and Kennebunk to meet your Memorial Day Weekend needs!

Do you want to do something different with your containers this season? Find hundreds of exciting combination recipes at ProvenWinners.com!

Protect your tomatoes and give them room to grow by surrounding them with a tomato cage. We have a fun selection of brightly colored ones this year!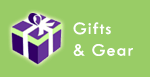 From the ultimate garden solution to perfect gifts, you're sure to find something great in our emporium!




Showcase your blooms with a fantastic piece of pottery; choose from many styles, sizes and colors.




Bring tranquility to your garden with a bamboo fountain kit.