Lawn Watering Guide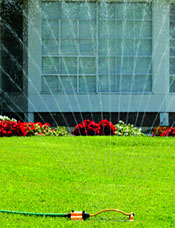 Extended periods of hot weather during the summer can take a toll on your lawn, especially areas that are fully exposed during the day. Without the benefit of an adequate supply of water, your lawn can endure severe stress, making it more susceptible to insects, disease and unsightly browning. A regular watering regimen will solve this problem.

When to Water

Watering your lawn first thing in the morning (even before sunrise) is generally considered the best time to water. By doing so, you'll give the water an opportunity to soak in before it has a chance to evaporate, and any moisture that doesn't take to the soil will be gobbled up by the hot summer sun. If you water in the evening, you run the risk of any excess water sitting on your lawn and fostering fungal damage.

How to Water

Your lawn's roots will only travel as far as the water does, so light watering will result in roots that stay near the surface. Deep watering will therefore encourage deep root growth, so it's extremely important to provide the right amount of water to your lawn. It also means less frequent watering because it will take longer for the soil to dry out.

We generally recommend a 1-2 inch application twice a week by watering for 5 minutes, then allowing the water to soak in for 15 minutes, and repeating until the desired amount has been applied. This will not only conserve water, but also reduce runoff.

Watering Devices

If set-up and placed correctly, a sprinkler system will consistently cover your entire lawn and can be programmed to water as frequently as you need it. Just remember that water tends to pool around the base of sprinklers, so rotating their locations even on small lawns is a good idea. If your lawn is too large to be covered by your present amount of sprinklers, either purchase more to ensure total coverage or move them to dry areas after one area has received an appropriate amount of saturation.

Too Much Water

Many people feel that if a little water is good, then more of it must be better. This is not the case when it comes to watering your lawn. In fact, more problems occur from over-watering than under-watering. By applying too much water to your lawn, you can wash away essential nutrients from your lawn and leave pools of unabsorbed water that will encourage fungal spores and disease.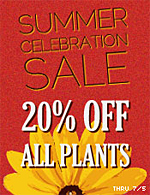 Summer Celebration Sale

Summer is here and it's time to celebrate with cookouts, parties and get-togethers. Here at Estabrook's, we're celebrating with our biggest summertime sale yet!

ALL plants are now 20% OFF thru July 5th during our Summer Celebration Sale. Visit us in Yarmouth, Scarborough or Kennebunk and choose from annuals, perennials, trees, shrubs and more.

Creating an Island Bed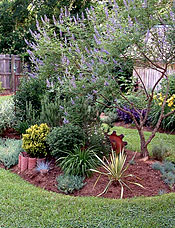 Island beds are freestanding beds, usually surrounded by lawn. By installing an island bed you can take a bare, uninteresting area and turn it into an attractive, eye-catching landscape feature. Use island beds to create a focal point, screen unattractive features, create privacy and reduce noise and lawn size.

Don't Skimp on Size

Island beds need to be large enough to accommodate your plants' growth in the coming years (look for this information on the plant tag or in our online plant catalog). If you are planning on putting trees and shrubs in your island bed, design a bed that is at least 8 feet wide. This width allows you to maintain your bed easily from the edge. If you design a wider bed, leave room for stepping stones to access your bed to weed and groom.

Create a Pleasing Shape

The shape is best determined by the area you have to work within. In general, a gently curving line is best. Curves are not only calming, but also make mowing and edging easier. To help create your shape, lay a garden hose on the ground to represent the future shape of your bed. Arrange and adjust the hose until you like the shape.

Select Plants That Fit Your Conditions

One of the great advantages of island beds is that you can easily group plants that require the same growing conditions together. For example, a bed located in a front yard that is hot and dry with full sun needs plants that thrive in those conditions: some Maples, Hawthorn, White Pine, Juniper, Quince, Potentilla, Sand Cherry or Bayberry to name a few.

If perennials interest you, there are many choices that thrive in hot, dry conditions. Although a plant might thrive in dry conditions, all plants must be watered while getting established.

Island beds are a great, manageable way to add interest and beauty to your yard. So go ahead and get your hands dirty!



Like Us!

Follow Us!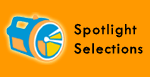 Save 20% on these fantastic plants and more during our Summer Celebration Sale now thru July 5th



'Endless Summer' Hydrangea



'Thunderbolt' Hosta



'Double Play Artist' Daphne Spirea



Salvia



Volcano Phlox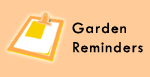 Hot summer weather is here. Keep your plants happy and healthy by watering them 2-3 times a week, even when it rains.

Don't forget about your feathered friends! Make sure your feeders are filled with seed and your bird baths have plenty of water.



From the ultimate garden solution to perfect gifts, you're sure to find something great in our emporium!



Make watering fun and easy with brightly colored rain wands from Dramm



Add a touch of tranquility to your summer garden with these stately fountains