Summer Color for $15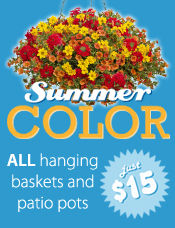 Whether it's a grand gathering or just a few friends stopping by, Mainers love to open their homes to friends and family during the summer.

Roll out the welcome mat by dressing up your home with containers overflowing with summer blooms from Estabrook's.

Every hanging basket and patio pot is now on sale for just $15 at Estabrook's in Yarmouth, Scarborough and Kennebunk.

Big or small, a single color or many, choose your favorites and pay just $15 apiece.

It's the perfect way to add a dash of summer color to your home quickly and easily.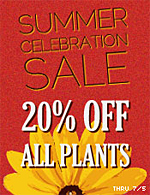 Our Summer Plant Sale Ends Today!

If you haven't visited us to take advantage of our Summer Celebration Sale, today is your last chance!

ALL plants are 20% OFF thru the end of the day (Thursday, July 5th). Visit us in Yarmouth, Scarborough or Kennebunk and choose from annuals, perennials, trees, shrubs and more before it's too late.

Landscaping Your Front Yard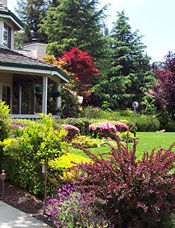 If landscaping the front yard is at or near the top of your to-do list this summer, we have some tips before you get started.

Creating a beautiful, welcoming front yard is a wonderful way to express yourself and give your home warmth and personality. Try to envision your front yard as another room of your house. It should convey your sense of style through shape, texture and color. Although working with living elements that change with the seasons and grow over time is challenging, the rewards are great.

Tie Your Home to Your Landscape

Take cues from your architecture, neighborhood and surrounding environment. The style of your home plays a large role in the design of your landscape: formal, informal, contemporary, rustic, colonial, cottage. The area surrounding your home should be reflected in your design: wooded, seaside, field, waterside. And consider the color of your home - a color coordinate landscape flows.

Create a Welcoming Entry

A front entry is the gateway to your home, so make it the focal point. This is where you meet and greet family and friends. The entry should be warm and inviting with enough space to enter and objects to attract the eye.

Front Yards Need to Work

Since your front yard is the most public place of your home, they need to function as well as be attractive. Each yard needs a practical way to get from the drive to the main entry. Although utilitarian, a path or walkway can be more than a just getting from point A to point B. Well designed walks can create a mood. A gently curving walk is an invitation to slow down and enjoy. Straight concrete walk can soften with plantings and points of interest.

A welcoming front yard and entry is a wonderful way to express your creativity, and add interest and value to your home.



Like Us!

Follow Us!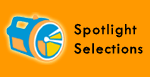 Refresh your garden with brand new plants! These varieties have just arrived:



Rosa rugosa



'Broadway Lights' Leucanthemum



'Stella D'Oro' Daylily



Volcano Phlox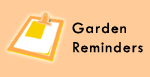 Be on the lookout for summer lawn diseases such as brown patch. Contact us for treatment solutions if you see any signs of trouble.



From the ultimate garden solution to perfect gifts, you're sure to find something great in our emporium!



Keep your plants watered with a variety of colorful sprinklers from Dramm