Save Up to 50% During Our Summer Sale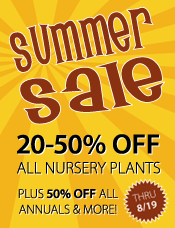 Whether you're looking to refresh, expand or just get going on your garden, now is the perfect time to visit us in Yarmouth, Scarborough or Kennebunk. We're kicking off a huge summer sales event today at all three of our locations.

Enjoy the following discounts now until August 19th:
Plus, ALL hanging baskets and patio pots are still just $15 apiece.

As long as you follow a few simple guidelines, summer is a great time to plant. To help you get started, we've put together a few summer planting tips to ensure success this season:

Water

An appropriate level of water is important to any planting, but it takes extra importance during the summer. With arid temperatures your plants will naturally demand more moisture. Even if you're planting in damp soil or drizzly weather, new plantings should receive a good soaking when they go into the ground. This initial soaking will settle the soil around the roots and expedite the time it takes for the plant to start drawing water from the ground on its own.

Continual watering after the plant is in the ground (typically 2-3 times a week) will ensure that your root structure will grow and establish in its new soil. By following this pattern, most plants will begin to establish themselves within a week after being put in the ground.

When to Plant

Choose the day you plant carefully and know your limits. Planting in the mid-afternoon on a hot summer day won't do your plants or yourself any good. You should also be on the lookout for windy days. Heavy gusts can quickly strip new trees of their leaves. If this happens when the plant is not taking up water from its roots yet, it can cause serious stress.

The best days for summer planting are cloudy ones. Without the sun blazing down, you and your new plants will have a more pleasant planting experience.

Enjoy Your Garden!

Summer planting provides you with an opportunity to get out in the garden and enjoy your plants when they're looking their best. Just as strolling along your garden at night can reveal new discoveries, summer gardening puts you side-by-side with your plants in their mid-season form.

The growing season in Maine is a short one, so why limit it to the springtime? By carefully watching the weather and making sure your plants are getting the water they need, you can extend the gardening season and find new ways to enjoy your plantings.


Let Us Do the Planting

Take the hassles out of planting trees, shrubs, perennials & more with our Planting Service.

For as little as $45 per plant, we'll get your plants into the ground and off to a great start. Visit our website to learn more.

Good "Bones" for the Garden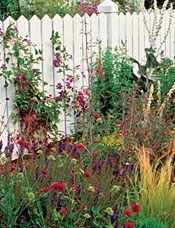 When summer is here and our gardens are full of color, it's hard to remember the cold, dreary days of winter.

But let's face it, we live in Maine and more than half of our year is winter. So how do we maintain interest in the garden all year? Simple - create a landscape with good "bones".

The bones are the structure of the garden, the elements that remain after the flowers are spent and the leaves are gone – paths, walks, trees, shrubs, benches, rocks, patios, ponds and sculpture.

The Importance of Structure

Most of us become preoccupied with favorite plants or the ones we fell in love with at the garden center. We hope that all the wonderful plants we bring home, placed together, will make a beautiful whole. Unfortunately, what we often end up with is disorganized and lacks unity.

By adding structure, a garden becomes solid and grounded in all seasons and creates a backdrop for those interesting plants. In fact, the most ordinary plants arranged within a well structured landscape can make a striking garden.

Structural Elements and their Uses

When coordinating the bones of your garden, take these elements into consideration:
Paths connect different parts of the garden and direct traffic
Walls, fences and trellises create a sense of enclosure and security
Boulders and rocks add visual focal points and can anchor plants
Evergreen trees are perfect for framing a view, while deciduous trees grouped together can create a canopy of green
Flower beds direct the viewer's eye and add seasonal color and interest
Water features create sanctuary, sooth street noise and create a focal point

Like Us!

Follow Us!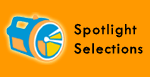 Tons of these fantastic plants have just arrived and are now on sale!



Rudbeckia 'Goldsturm'



'Little Lime' Hydrangea



Perennial Hibiscus



'Stella D'Oro' Daylily



'Pow Wow Wild Berry' Coneflower



'Jacqueline' Astilbe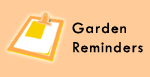 Visiting Yarmouth for the Clam Festival? Escape the hustle and bustle by dropping by our flagship location on East Main Street.

Fertilize, weed and water your lawn this weekend to ensure a lush, green carpet of grass all summer long.



From the ultimate garden solution to perfect gifts, you're sure to find something great in our emporium!



Are your tomato plants running wild? Tame them with these durable supports that encourage them to grow big and tall without breaking.



Make watering fun and easy with brightly colored rain wands from Dramm