Advice
5 Out of the Box Centerpiece Ideas We Love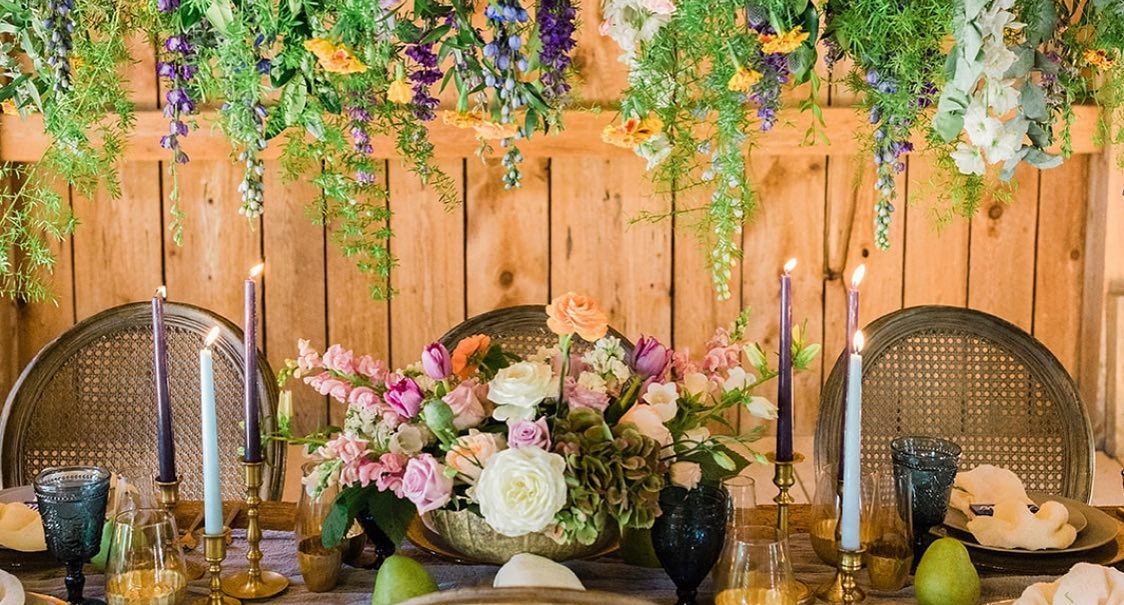 5 Out of the Box Centerpiece Ideas We Love
By Sarah Whiton
If there is one thing we love about creating floral concepts for our bridal clients, it's dreaming up expressive tablescapes. Centerpieces set the scene, create ambiance and have the ability to make or break your reception space - plus, they are the perfect way to bring together all of the elements that make your wedding day unique. Truly, the options are endless!
Whether you're planning a wedding or other celebration (post-pandemic bash, anyone?) here are just a few looks we're loving right now:
#1 - Potted Herbs
A collection of potted herbs create a garden fresh centerpiece that is a feast for the senses. Not only do the plants create a visual impact, but they smell amazing, and can be taste tested and used as garnish on guests' plates.
You could customize this look with interesting pots to match your wedding day aesthetic, mix and match sizes, or select herbs that are special.
#2 - Suspended Flowers
Draw your eyes, and your flowers, upward with this dramatic look. Flower installations are becoming a hot trend and when it comes to style and design, literally the sky's the limit! Think flower clouds, floral chandeliers, or suspended wreaths for a few ideas. You could mirror a floating arrangement by accenting light greenery on your table, or let it speak for itself.
#3 - Minimalism
Clean lines and minimal texture create an airy, fresh visual impact. What's more, is that this timeless look brings all the sophistication while being budget friendly. We love this look not only for weddings but showers and intimate gatherings too. You could incorporate interesting vessels such as antique bottles or bud vases of different sizes and colors to make it your own. And without a doubt, let your favorite flower be the star of the show!
#4 - Dramatic Greenery
No flowers needed for this lush look. Mixed greenery does all the talking in a style that's high in texture and extremely versatile. It can easily meet the style needs of a rustic barn wedding or swanky urban nuptials - and almost anything in between. Create this look with tall vases, above your guests line of view with mixed greenery as pictured, or with branches and boughs for an under-the-trees enchanted feel.
#5 - Incorporate Ikebana
Ikebana is a Japanese style of flower arranging whose meaning is "way with flowers." These petite arrangements create a linear, airy look that truly celebrates the blooms they contain. Try styling a line of them down the center of long tables, or use them to accompany larger sized centerpieces.
Be fresh!
Whether you're planning a wedding, dinner party, or shower, creative centerpieces will be something your guests won't forget! So as you're planning florals for your wedding, don't be afraid to think outside the box (or cylinder vase, if you will...)