Advice
Classy White Gardens are Especially Magical at Night

Classy White Gardens are Especially Magical at Night
By Kerry Ann Mendez
If you're looking for a truly elegant garden, might we recommend a "white garden"?
White gardens, also called moon gardens, are actually not all white (foliage will contribute additional colors) and as the name implies, will become really magical at night.
Silver along with variegated green and white foliage are especially valued in white gardens. Another design factor to consider is that most white flowers are not pure white - they have very subtle shades of yellow, pink, green, or blue in the petals.
Shape and Texture
When designing a white garden it is important to mix flower shapes and textures. For example, creating a composition of plants blooming concurrently might include Calamintha nepeta, Hydrangea p. 'Bobo', Achillea 'Firefly Diamond' and Echinacea 'White Swan'.
Pops of Color
Inserting one additional flower color such as blue or lavender (with discretion) can also elevate a white garden's enchantment. For example, in one of my client's white gardens, we tucked in English Lavender. The flowers look lovely with a sweep of white Hydrangeas behind them, plus their silvery foliage is another asset. Some of the other perennials incorporated in the bed are Shasta Daisy, perennial Candytuft (Iberis), white Peony, Calamintha nepeta and Miscanthus 'Morning Light'. Shrubs included dwarf Butterfly Bush 'Pugster White', Hydrangea 'Wee White', Hydrangea 'Limelight' and Hydrangea 'Bobo'.
Fragrance
Fragrance is another captivating element in white gardens, especially plants that release their intoxicating perfume in the evening. Some sweet smelling nocturnal flowers include Brugmansia (Angel's Trumpet, flowers face downward, poisonous), Datura (also called Angel's Trumpet but flowers face upward, poisonous), Moonflower (Ipomoea alba), Nicotiana alata (Flowering Tobacco), and Four O'Clocks (Mirabilis jalapa).
Mixing and Matching
Here is an example of a "white" garden. Plants include Hydrangea 'Incrediball', 'Iceberg' Rose, Japanese Maple 'Fireglow' and two dwarf blue spruce ('Sester Dwarf' and 'Montgomery' grown as a standard).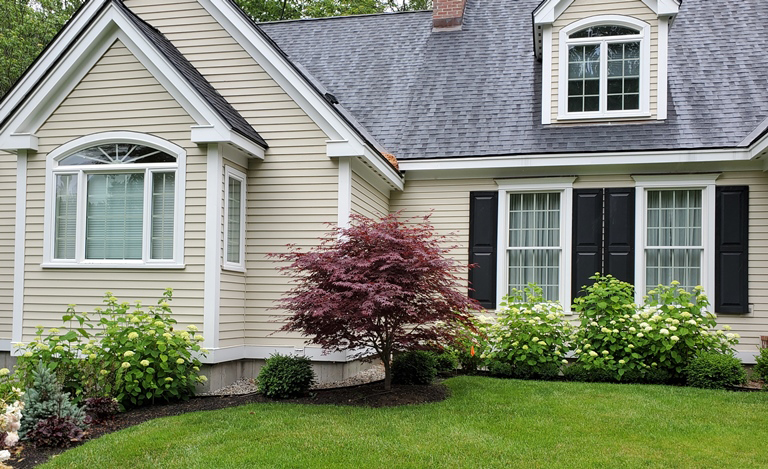 We carry many of the plants in this article and more! Please stop by the nursery and we will gladly show you some brilliant white gems.